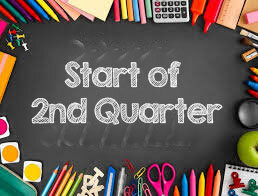 There are many different feelings and emotions about the first quarter coming to an end. Staff members in ACE have been working very hard to prepare students for the second quarter of this semester. A few ACE students were interviewed about their feelings at the start of Quarter 2. 
Ariana, a junior at ACE was the first person to be interviewed. She mentioned that she's excited to start over and better herself this quarter. This student was asked if she felt like last quarter was a good one for her and she said "yes." Ariana states that one thing she wants to improve on this quarter is "to show up to my classes on time." A goal of hers is to have no missing work. In order to make the best of this quarter she states "I will keep my head up and look at the positives in things."
Valerie Quezada, an ACE senior, states, "I'm happy for the start of a new quarter because I get another chance to bring my grades up." Quarter 1 was a good one in the beginning but then towards the end it wasn't so good. Valerie says, "I want to fix my attendance. I need to start coming to school more." One of her main focuses for this quarter is to fix her attendance. Valerie explained, "I will make the best of this quarter by completing my work, coming to school on time. Things like that."
Casey, another ACE senior, says that she's excited for the start of a new quarter. Last quarter was good for her and she doesn't believe that she needs much improvement for quarter 2. "I think I'm doing pretty good already." Her only goal for this quarter is to keep her grades up and just keep going. 
ACE staff and students hope for a great second quarter.