Brooke Hogan's Undiscovered – 2006's Hidden Gem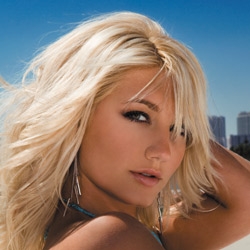 Brooke Hogan, daughter of famed WWE wrestler Hulk Hogan, could best be described as an early pioneer in the age of social media stars and children of nepotism alike releasing their own musical projects. In 2006, Hogan released her debut album Undiscovered – One that, with the exception of a few singles, flew largely under the radar.
The album, it seems, follows a non-linear storyline. Specifically, one that documents the ups and downs of a tumultuous relationship, followed by moving on to the next. The opening (and most commercially successful) track, About Us, is the most upbeat of the album. It includes a feature from rapper Paul Wall that is mediocre at best, but adds to the tone of the song nonetheless. The track starts off the project in a lighthearted and somewhat cheeky manner as Hogan disses those who pry into her personal life and relationship with the album's first object of affection – whoever that may be.
Production on Undiscovered is complex, and outstandingly beautiful on tracks like For A Moment, where Hogan reflects on an instance where she almost lost her lover. The album's production could best be described as a well-curated blend of pop, hip-hop, and RnB – with rock influence on a few songs, such as All About Me and Incognito.
Undiscovered does a spectacular job at showcasing Hogan's vocal abilities. She has great range and a beautiful tone in her voice. There are a couple songs, however, where Hogan's vocals appear to be poorly mixed. The differences in vocal mixing from track-to-track on this album can throw things out of balance at times, but this isn't something that is usually noticeable to untrained ears.
Hogan's bold demeanor on tracks like Crazy Love and Next Time – tracks that delve into post-argument emotions – give the album extra flair. Though both tracks had a team of writers behind them, Hogan sings her lyrics with enough attitude to convince you she'd written them herself.
In closing, I adored this album. Undiscovered is sassy and sultry, with just the right amount of emotional vulnerability tossed into the mix. The up-and-down moments resonate with listeners who have experienced a volatile relationship of their own. The more passionate and flirtatious tracks of the album greatly emulate the feeling of having a new object of attraction. Overall, Undiscovered is Hogan's best project by far. (Listen to Undiscovered here.)