ACE Cares For Ellsworth Elementary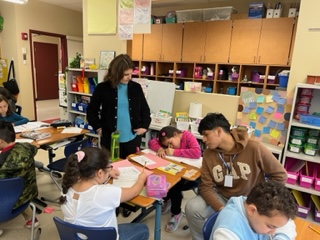 On the morning of Monday, March 24th, Daniela's Children's Literature class – alongside counselor Dianna – took its third visit to Ellsworth. As an introductory game, we formed a circle with the students and passed around a ball, stating our names at each turn. Afterwards, ACE kids joined the third graders at their tables to help them write meaningful letters to the elderly.
This visit, however, was a bit different from the last two. Students paired themselves up into different groups than before in an attempt to get to know the students better. Each table had around one to two ACE students working with a small group of third graders. ACE students worked alongside Ms. Huntington's students to draw pictures and craft encouraging letters to be sent over to one of Danbury's nursing homes.
"The students just glow every time we come here. Everything just changes about them in the most positive way," says Daniela, English and Children's Literature teacher. Daniela discussed the prospect of continuing this next year, stating, "Of course I'd love to keep doing this! We may, however, choose to work with younger children next year."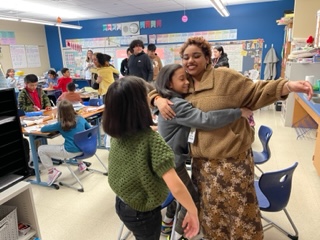 Throughout the hour-long visit, ACE students and their third-grade buddies spent time laughing, drawing, and getting to know one another through teamwork and conversation. When it came time to leave, Ms. Huntington's students had produced a handful of inspiring and uplifting letters to the nursing home residents.
"It's a wonderful, beautiful collaboration between ACE and the students of Ellsworth. I'd love to continue the relationship," says Daniela.