Spring Break
Spring break is approaching us very quickly and we can't wait for that nice warm weather . This year at ACE, spring break is hitting us early! We also get an extra day of break for Good Friday. Personally, I know that this spring break I'll be taking a well deserved break and I'll be spending time with my family. Hopefully, you all have something fun to do as well!
 I've asked a few students and teachers what they would doing this spring break.
Joanne said, she would be gardening this spring break and was nice enough to give us a picture of her garden.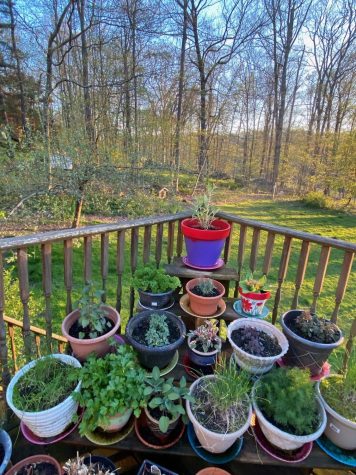 "I'll be spending a lot of time with my daughter and extended family." –Melissa
"I'm going to Naugatuck valley to be a student for a day, and hang out with friends." –kaylee
"I'm flying out to Florida for the weekend and then I'll be working."-Jason
"I'll be working and then I'll be going out to New York to visit family."-Christian
"Probably nothing, maybe work."-Haley
"For spring break I'm planning on going to New York with my family, then for the last couple days I'll be going to college campuses to visit all my top choices."-Abigail
Looks like everyone is going to have fun this spring break!
To those of you who don't have any plans don't feel bad, because I have a few ideas that are free or low cost for you to do.
-Hiking
We have a great selection of trails here in Danbury like Tarrywile, Bear Mountain, Ives Trail, and Farrington Woods.
-Movies
Some movies offered right now are:
John Wick: Chapter 4
Scream 6
Creed 3
Shazam!: Fury of the Gods
65
Cocaine Bear
-Ice Skating
The Danbury Ice Arena is relatively low cost – entry is $17 and skate rental is $5. There is also food and a mini arcade.
-Monster Mini Golf
Is a lot of fun and very low cost! "Little Monsters" are $8 and "Big Monsters" are $9.
-Fishing
There are a hundreds of places you could go fishing in Danbury but to name a few.
Tarrywile Lake

Rogers Park Pond

Kellners Pond

Mike's Pond
-Spring Cleaning
Although this is not as fun, the payout could make you feel less anxious and could brighten up your space.
This is just a small list of things you can do this Spring, but of course what's better than simply doing nothing at all! This Spring break, take the time to relax and have fun.